TRANSITION PALO ALTO
Newsletter
October 5, 2011
News
New book – "Transition Companion" – discount copies available
Let it all hang out at new Chat group
Opportunities with Transition groups
Burt Liebert writing "Take Back the Power"
Transition Garden Group forming
Events
Acterra's Green@Home energy specialist volunteer training – Wed Oct 5 and 12
Free screening of "I AM, the documentary" – Thurs Oct 6
Sharing Event – garden produce, crafts, Halloween costumes – Sun Oct 9
Bike Palo Alto – Learn how easy it is to bike in Palo Alto – Sun Oct 9
Frances Moore Lappé at Stanford: "Cultivating the EcoMind to Transform Our Food System" – Tues Oct 11
Community Food Conference in Oakland – Nov 5-8
---
NEWS
---
New book – "Transition Companion" – discount copies available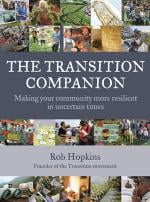 We just placed a bulk order for "The Transition Companion" by Rob Hopkins which will be released in late October.
The book is a sequel to "The Transition Handbook," and gives strategies and ideas It should be an important book.
If you are interested in reserving a copy, email Annette at annetteisaacson AT comcast DOT net.
List price is $29.95. We can offer it for $20.
A book group will probably form to read the book together. It's more fun to read it that way.
More (see links under "Additional Information" at right of page)
PDF of excerpts:
---
Let it all hang out at new Chat group
To cope with all the ideas and events, we've set up a new Yahoo group for announcements, news items and discussion. It's called tpa_chat
If you already have a Yahoo account, you can sign up by sending an email message to
tpa_chat-subscribe@yahoogroups.com
Complete instructions – see next item below.
---
Opportunities with Transition groups
Interested in connecting with one of the groups active in Transition Palo Alto? Just sign up for the Yahoo group to get news of meetings, events, and discussions.
Current groups:
transitionpaloalto for the newsletter and occasional Transition-related posts of general interest. Open.
tpa_book2 Transition Book Group 2. Meets every two weeks on a variety of subjects. Open.
tpa_book4 Transition Book Group 4. Now sponsoring the Resilience Circle (tpa_resilience)
tpa_book6 Transition Book Group 6. Now reading the Transition Handbook.
tpa_book7 Transition Book Group 7. Will begin reading the Transition Handbook in November. Will probably meet Thursday in the daytime.
tpa_chat for ideas, events, discussion. Open.
tpa_conversation Conversation and community discussion group. Deals with group process. Open.
tpa_food Food-related topics.Open
tpa_garden Gardening-related topics.Open.
tpa_resilience Resilience Circle. Started recently. Meets every week. Still open.
tpa_reskilling Reskllling classes (learning hands-on skills). Open
tpa_slow_money Money topics, with emphasis on the local economy. Investing, money-management, business.
The home page for each is:
http://groups.yahoo.com/group/transitionpaloalto/
http://groups.yahoo.com/group/tpa_book2/
http://groups.yahoo.com/group/tpa_book4/
http://groups.yahoo.com/group/tpa_book6/
http://groups.yahoo.com/group/tpa_chat/
http://groups.yahoo.com/group/tpa_conversation/
http://groups.yahoo.com/group/tpa_garden/
http://groups.yahoo.com/group/tpa_resilience/
http://groups.yahoo.com/group/tpa_food/
http://groups.yahoo.com/group/tpa_reskilling/
http://groups.yahoo.com/group/tpa_slow_money/
[Thanks to David H. for pointing out that 2 of the URLs were wrong in the emailed version of the newsletter]

To join the tpa_chat group (or any of TPA's groups – just plug in the appropriate name, e.g. "tpa_resilling" instead of "tpa_chat"):
1. Go to:
http://groups.yahoo.com/group/tpa_chat/
2. Click on "Join Group" (in blue) on the middle right of the page.
3. If you have a Yahoo ID account, sign in with it.
If you DON'T have a Yahoo ID account, it is recommended that you fill out the forms to get one. It's free and takes 5-15 minutes. Once you have one, it makes your interactions with Yahoo groups much easier. At the bottom right of the page, click on the button "Create New Account"
If you DON'T have a Yahoo ID account and you cannot / do not want to go through the process of signing up for one, send me your name and email address and I can sign you up for the group. ( bart AT cwo DOT com ).
4. Fill out the options. You can probably stick with all the default values.
If you don't want mail filling up your inbox, you can choose the "Web Only" option in Step 2. With this option, you can go to the Yahoo Group website to read messages, rather than having them sent to you. (Thanks to Rani for this tip.)
http://groups.yahoo.com/group/tpa_chat/messages
5. After you're signed up, you can send messages to the group by using the mail address
tpa_chat@yahoogroups.com
6. To un-subscribe, send a message to
tpa_chat-unsubscribe@yahoogroups.com
---
Burt Liebert writing "Take Back the Power"
Transition Palo Alto has been honored to have Burt and Marge Liebert at many events.
They have been involved in Transition-like activities for many decades. Recently they published an eco-topian novel called "Out of the Cage"
Burt has been an actor, drama teacher (UC Davis), Humanist, Peace Corps volunteer, lecturer, activist and horseback rider. Marge has been an innovative special-ed teacher, a prolific artist, and an undaunted activist.
More:
https://transitionpaloalto.org/learn/about-burt-and-marjorie-liebert/
A few weeks ago, Burt distilled his feeling about current events in a piece of writing called "Take the Back Power"
http://outofthecagenow.blogspot.com/2011/09/take-back-power-by-burt-liebert-it-isnt.html
It may be a statement that many can agree with. At first reading, it seems like the "Move to Amend" moveement against corporate personhood that some TPA people are involved with (cf Gerry G.).
http://www.peaceandjustice.org/programs/Move_To_Amend/MoveToAmend.pdf
-BA
---
Transition Garden Group forming
Romola Georgia is starting a garden group for discussion and activities around gardening. Romola is a Master Gardener and a founding member of Transition Palo Alto.
You can join by going to
http://groups.yahoo.com/group/tpa_garden/
Or by writing Romola at rgeorgia AT gmail DOT com
---
UPCOMING EVENTS
---
Acterra's Green@Home energy specialist volunteer training – Wed Oct 5 and 12
Come learn more about how to save energy in your home — and help others in the community do so, too! Please join us at Acterra for this volunteer training program on the next two Wednesday evenings:
Wednesday OCTOBER 5 & 12: Next Acterra's Green@Home Energy Specialist Volunteer Training.
Green@Home Energy Specialist Volunteers meet with residents in their homes to install basic energy and water saving devices and create home energy conservation plans. Each HouseCall is performed by 2 volunteers & takes 2.5 hours. The next training will be: October 5 AND 12, 5:30 – 9:30 pm. The class will meet in Palo Alto. For more details about the location and to register for this training, see http://greenathomeprogram.eventbrite.com/
Please pass the word to others that may be interested.
Hope you can join us –it's a fun, hands-on learning program with tools and a comprehensive learning manual.
– Debbie Mytels / Associate Director, Acterra
---
Free screening of "I AM, the documentary" – Thurs Oct 6
Topic:
The shift is about to hit the fan
Event date:
Thursday, October 06th, 2011 – 5:30pm – 8:30pm
Location:
Cubberley Auditorium, Stanford University
Trailer:

Reviews:
http://blog.seattlepi.com/peoplescritic/2011/02/24/review-i-am-the-documentary/
http://seattletimes.nwsource.com/html/movies/2014320323_mr25iam.html
– Sarah R.
---
Sharing Event – garden produce, crafts, Halloween costumes – Sun Oct 9
Neighbors Sharing Food/Flowers/Herbs from their Gardens
Neighbors Sharing Arts & Craft Supplies
Sunday, October 9 11am – noon
FREE !
Common Ground Organic Garden Supply & Education Center
www.commongroundinpaloalto.org
559 College Avenue
Palo Alto, CA 94306
Join us to share garden bounty. Bring what you have to share; take home something you don't. Think of it as a "free" backyard farmers' market.
Bring your homegrown fruit, vegetables, eggs, herbs, honey, and flowers! Bring your outgrown Halloween costumes and paraphernalia.
Come meet other artistic people, share stories, clear out your closets, and help save stuff from the landfill at the Craft Share! Bring your old arts and crafts supplies, Halloween and other paraphernalia, and take home what you really need.
Throughout the Bay Area, neighbors are coming together to share. Our Palo Alto sharing event is supported by a coalition of community ecological organizations and neighborhood groups including: Acterra, Barron Park Green Team, Barron Park Garden Network, Barron Park Assn, Common Ground, City of Palo Alto Community Gardens, Slow Food South Bay, Transition Palo
Alto and Transition Silicon Valley.
The Common Ground store is open during the event, so plan to stop in to get any supplies you need to continue your garden bounty. Also, the event is located only 3 blocks from the California Ave Farmers' Market, which is open from 9:00 AM to 1:00 PM. You will have time to shop or have lunch at the market after the event.
Join us to share garden bounty as well as halloween costumes. Bring what you have to share; take home something you don't. Think of it as a "free" backyard farmers' market.
– Rani
---
Bike Palo Alto – Learn how easy it is to bike in Palo Alto – Sun Oct 9
Join in for an afternoon of fun and learn how easy it is to bike in Palo Alto! Bike Palo Alto! 2011 will be on Sunday October 9, 1-4 pm.
Start at El Carmelo School (Bryant & Loma Verde) for bike safety info, helmet fitting, bike registration and bike safety checks and maintenance. Then choose one of our highlighted routes and take a fun ride with free treats along the way including ice cream at Baskin Robbins and fruit at Mollie Stone's & Whole Foods.
Bike Palo Alto! is a free, family friendly event, no pre-registration necessary. Just bring your bike & helmet and be ready to lower your carbon footprint and have some fun! Event highlights:
Learn tips on how to bike safely on public streets and make sure your helmet is ready to protect you!
Get a great local bike map highlighting bike routes in and around Palo Alto!
Check out Palo Alto's great bike routes and stop along the way for free ice cream and other treats!
Learn about bike safety accessories to make your ride safer and register your bike!
Want to know the best bike route from your home to your favorite destination? Ask the Route Wizard!
Bring your bike by for a free safety check and basic maintenance!
Sign up for our free raffle for a chance to win a great prize!
For more info go to: www.pagreenteams.org
Or find us on Facebook at http://www.facebook.com/event.php?eid=208437172508446
Bike Palo Alto! Sponsors: Palo Alto CEAP, City of Palo Alto Way2Go & Sustainability Programs, Mike's Bikes, Whole Foods, The Sweet Shop, Starbucks, Baskin Robbins, Mollie Stone's Markets, Traders Joes, Kepler's Books, REI, Palo Alto Bikes, College Terrace Association & the Barron Park Association.
– Annette I.
---
Frances Moore Lappé at Stanford: "Cultivating the EcoMind to Transform Our Food System" – Tues Oct 11
Stanford Food Summit 2 proudly and enthusiastically invites you to an evening with: Frances Moore Lappé
Cultivating the EcoMind to Transform Our Food System
Lessons learned from 40 years of the Food Movement
Please feel free to forward and circulate this with wild abandon. We would love to FILL Memorial Auditorium (capacity 1,700).
Stanford Public Forum featuring Frances Moore Lappé, Tuesday October 11, 7-9 pm
Target Audience: General Public
On-line registration is free, but required to help us keep track of numbers: http://foodsummit.stanford.edu
(please note: the website has a registration for the evening event)
The Keynote by Ms. Lappe will be followed by a panel discussion:
Moderator: Debra Dunn, Stanford d.school
Farmer: Dru Rivers, Full Belly Farm
Cook/Restaurateur: Jesse Cool
Nutrition Scientist: Christopher Gardner
– submitted by Lori W.
---
Community Food Conference in Oakland – Nov 5 – 8
The topic of Food Justice has been in the air recently, so I suspect that a number of you will be interested in learning about the Community Food Conference 15 – happening in Oakland from November 5 to 8. It isn't cheap, but if you've attended conferences lately, you'll know that it's reasonable compared to some. You get quite a lot for your money. Check it out at: http://communityfoodconference.org/15/
If you don't want to attend the entire conference, you have the option of attending ONLY a field day on Saturday, November 5. These trips give people the opportunity to visit food programs and farms around the Bay Area, from West Marin to Salinas. They typically come not only with great information and opportunities to learn, but a lunch made from local, sustainable food. http://www.foodsovereigntytours.org/u-s-tours/cfsc2011/
One field trip in particular that I'd like to mention to you is near by. Collective Roots is hosting a field day, right here in East Palo Alto. Many of you know Collective Roots well, and probably don't need an all day tour of their excellent projects and sites. But others of you who have heard about them might want to check this out. You'll get to visit quite a number of places, including the amazing and beautiful EPACS garden, and get a lunch of local, sustainable food cooked by the graduates of their Cooking Matters program. http://www.foodsovereigntytours.org/u-s-tours/cfsc2011/east-palo-alto/
– Peter Ruddock
Ongoing Events
alternate Tuesdays – Conversation, Community and Calling
alternate Wednesdays – Book group 2 continuing discussion, Reskilling group
Thursdays – Resilience Circle
2nd Sunday – Garden share at Common Ground
4th Sunday – Garden share at Full Circle Farm
Visit the website at http://www.transitionpaloalto.org for details
You can access the Calendar via:
https://transitionpaloalto.org/events-2
Contact the Transition team transitionpaloalto@gmail.com
to get on or off the newsletter mailing list (the transitionpaloalto Yahoo Group) or to suggest events!
editor for this issue: Bart Anderson
normal editor: Rani
– 30 –