TRANSITION PALO ALTO
Newsletter
November 29, 2011
News for Transition Palo Alto
New Transition book groups forming – Wed Nov 30
Transition Companion copies available
Films of Vision and Hope- "Occupy Wall Street — What's Happened? What's Next?" – Fri Dec 2 and 9
Sharing Circle organizing with Cecile Andrews – Mon Dec 5
Slow Money group organizing – Mon Dec 5
Occupy book group organizing – Thurs Dec 8
Garden and Craft Share – Sun Dec 11
Occupy on the Peninsula
Follow-up to Resilience Circle
Get involved in a Transition group
Events
Richard Heinberg at Kepler's – Thurs Dec 8
Peak oil vs Climate debate with Heinberg – Berkeley Thurs Dec 15
---
NEWS
---
New book groups forming – Wed Nov 30
Probably the best way to get started with Transition is through a book group reading the Transition Companion. The Transition Companion (published last month) replaces the Transition Handbook, which we had been using.
Book Group 7 is now underway. It meets Thursdays in the middle of the day.
Book Groups 2 and 6 will be meeting together to read the Transition Companion on Wednesdays, starting November 30. The group is open to anyone interested. Contact transitionpaloalto@gmail.com. Or join tpa_book2 or tpa_book7 . William Mutch writes:
Book Group 6 has shifted over to reading the Transition Companion, and will commence on that this week. It is the upgrade/replacement to the Transition Handbook.

The plan is to meet at my house this Wednesday night, 6:30 for schmoozing and 7 for the group. Our plan is to read through page 44, or so. We'll be meeting this week (11/30) and next week (12/7), then will shift to an every-other-week rhythm. Contact transitionpaloalto@gmail.com, and I'll send you the address!
---
Transition Companion copies available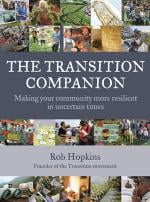 We just made a second bulk order for 29 copies of "The Transition Companion". List price is $29.95. We can offer it for $20. Contact Bart Anderson ( transitionpaloalto@gmail.com ) to get a copy. He will be bringing copies to the book groups.
There is an online outline of the Transition Companion with links to about 60% of the material in the book.
More about the book (see links under "Additional Information" at right of this page)
PDF of excerpts

---
Films of Vision and Hope – Fridays – December 2 and 9
Occupy Wall Street — What's Happened? What's Next?
Occupy Wall Street has captured the imagination of millions and brought a level social activism not seen in the U.S. for decades. How did it start? What's happened so far? What are the implications, and what can we do locally to get involved?
We'll explore all of this at this Films of Vision and Hope mini-series.
Friday, December 2 – The Best of Occupy Videos
There's a rich video record of the Occupy movement, with fascinating footage and interviews. We'll see a selection of Occupy videos and discuss the movement — what we think about it and what the implications are for meaningful economic and social change.
Friday, December 9 – 100 Mile Potluck
Bring a dish to share (with local ingredients, if possible). We'll continue the conversation, sharing what people are doing locally and what others can do to get involved.
World Centric 2121 Staunton Ct., Palo Alto
(behind JJ&F Market)
Meet and greet (and Dec. 9 potluck) 7 PM
Films and discussion 7:30 – 9:30 PM
Sponsored by Transition Silicon Valley, Transition Palo Alto, Silicon Valley Action Network and World Centric
---
Sharing Circle organizing with Cecile Andrews – Monday December 5
A new movement has developed recently: the "sharing economy," where people share, barter, exchange, rent, etc — everything from cars to clothes. It helps people save money, helps the planet by reducing the use of resources, and builds community — one of the primary predictors of well being. The purpose of this circle is to become acquainted with the different opportunities in this new "sharing economy" by exploring the many web sites, trying some of the ideas out, and generating new ideas. (Many people create small businesses in this new movement.) If they desire, members of the circle can then act as resource people to others. The facilitator is Cecile Andrews, the author of books, such as Circle of Simplicity, which reflect the underlying philosophy of Sharing.
For more background on the "sharing economy," go to www.shareable.net or www.collaborativeconsumption.com .
– Cecile Andrews
Begins Monday, December 5th, 7 pm.
This will be held on Monday nights at mid town in Palo Alto, (In the beginning it would be every week and less often later.)
If you are interested, please contact Cecile Andrews at cecile@cecileandrews.com .
[Cecile Andrews is the author of Slow is Beautiful, Less is More, and Circle of Simplicity. She has her doctorate in education from Stanford.]
---
Slow Money group organizing – Monday December 5
We have reserved a room at Acterra for the first ever Slow Money organizational meeting. It will happen on Monday, December 5, from 7:00 to 9:00 PM.
Peninsula Conservation Center
3921 East Bayshore Road
Palo Alto
I've talked with members of the Slow Money Norcal chapter and they know that we're forming a group, which will have some kind of relation to them. As was mentioned to me, this is new ground, so we can define just about whatever we want to: investment club, business incubator, vetter of entrepreneurs for loans, whatever we can think of and safely do. I'll mention this at the chapter meeting in Berkeley on 11/21.
We should, however, do this cautiously and carefully. I rather expect the first meeting to be one of getting to know each other and what the expectations of each person are. We'll probably want to meet monthly for a couple of months, to iron out wrinkles; and understand and draw up any legal documents we might need (required for an investment club as I understand).
Please forward this to anyone you think might be interested, who has not signed up for this Yahoo Group. See you all on the 5th.
– Peter Ruddock
---
Occupy book group organizing – Thurs December 8
Cecile Andrews will be leading a group to examine and discuss the Occupy Movement, and its relation to Transition.
The first meeting will be Thursday December 8.
World Centric 2121 Staunton Ct., Palo Alto
Schmoozing 6:30 pm. Program start 7 pm.
We will be reading the book on Occupy that was just published by YES! Magazine:
http://store.yesmagazine.org/this-changes-everything?ica=TCEbk_port_2ways&icl=Home_550
http://www.yesmagazine.org/people-power/this-changes-everything-how-the-99-woke-up
You can contact Cecile at cecile@cecileandrews.com, or join tpa_occupy, the Yahoo Group set up to support the group: http://groups.yahoo.com/group/tpa_occupy/
---
Garden and Craft Share – Sun December 11
Local Garden Share and Craft Share are planning to merge again, with a holiday theme, tentatively scheduled for 1:00 to 3:00 PM on Sunday, December 11. More information to follow.
Garden share events have been cancelled for the rest of November and December, since the dates conflicted with holidays.
---
Occupy on the Peninsula
Several Transition people have made contact with local Occupy groups. The Transition Conversation group went to the last General Assembly of Occupy Palo Alto to introduce ourselves and to learn more about local Occupy activities.
Contact information for those interested:
Occupy Palo Alto
Facebook page: http://www.facebook.com/occupypaloalto
Google group: http://groups.google.com/group/occupypaloalto
General assemblies: Thursdays noon-2 pm University Lutheran Church, 1611 Stanford Ave. (at Bowdoin), Palo Alto (new time)
—-
Occupy Stanford
http://www.facebook.com/OccupyStanford
—
Occupy Redwood City
http://www.facebook.com/pages/Occupy-Redwood-City/114201505357515

—
Occupy Mountain View
According to David Herron, meetings are Sunday afternoons at 3pm in the plaza between City Hall and the Arts Center. There's a "stand on the street corner holding signs" on Thursday afternoons at the intersection of Castro and El Camino).
Transition typically does not take political positions, but it does provide forums for relevant political discussions.
---
Follow-up to Resilience Circle
The Resilience Circle held its final formal session November. A number of follow-up activities were suggested. Some of these are already underway, and others need a "point person" to make them happen.
Time Bank
Slow Money/Social Responsible/Local Investing ( tpa_slow_money )
Home Project Cooperative (for house weatherization, garden work, painting?, etc)
Disaster Preparedness
Planting Fruit Trees
Local Food/Health/Exercise
Monthly Community Dinners
Networking/Chat Group (online) ( tpa_chat )
On-Going Resilience Circle (This one)
Transition Companion Book Discussion Group (tpa_book2 and tpa_book6)
Support Alliance (yahoo group?) for People in Wider Community (rides, home help, etc.) (tpa_support)
Peer Coaching Circle
Move to Amend (the Constitution re: Corporate Personhood)
Reading the Occupy book from Yes! Magazine (tpa_occupy)
---
Get involved in a Transition group
Interested in connecting with one of the groups active in Transition Palo Alto? Just sign up for the Yahoo group to get news of meetings, events, and discussions.
New in October and November:
Occupy (tpa_occupy): Discusses the #Occupy movement, and investigates what sort of co-operation may be possible with it.
Support (tpa_support): Several people in the recent Resilience Circle want to explore ways to provide mutual support to each other. Bette K. writes: "If you need a ride, plant watering, pet or child care, prescription pick up, or connection during a transition-please do join our group. "
Chat (tpa_chat): To cope with all the ideas and events, we've set up a new Yahoo group for announcements, news items and discussion … whatever is on your mind.
Food (tpa_food): Interested in where your food comes from? Finding out how to get local, organic, **delicious** food? Getting connected with local food activists? Peter Ruddock, who has been a leading activist in Slow Food, is facilitating this group.
Gardening (tpa_garden): Learn about local resources and opportunities for gardening. Facilitator is long-time Master Gardener Romola Georgia. You can write her to join: rgeorgia AT gmail DOT com
Slow Money (tpa_slow_money): Started up after we heard two exciting speakers from Slow Money at the Oct 28 potluck. Will deal with business, investing, money management — all with a Slow Money, Transition focus.
Current groups:
transitionpaloalto for the newsletter and occasional Transition-related posts of general interest. Open.
tpa_book2 Transition Book Group 2. Meets every two weeks on a variety of subjects. Will begin reading the "Transition Companion" Nov 30 and early December. Open.
tpa_book4 Transition Book Group 4. Now sponsoring the Resilience Circle (tpa_resilience)
tpa_book6 Transition Book Group 6. Will begin reading the "Transition Companion" Nov 30 and early December. Open.
tpa_book7 Transition Book Group 7. Began reading the Transition Handbook in November. Meets Thursday in the daytime.
tpa_chat for ideas, events, discussion. Open.
tpa_conversation Conversation and community discussion group. Deals with group process. Open.
tpa_food Food-related topics. Open
tpa_garden Gardening-related topics. Open.
tpa_occupy Discusses the Occupy Movement. Open.
tpa_resilience Resilience Circle. Started recently. Meets every week. Still open.
tpa_reskilling Reskllling classes (learning hands-on skills). Open
tpa_sharing Sharing-related topics.
tpa_slow_money Money topics, with emphasis on the local economy. Investing, money-management, business.
tpa_support Exploring ways to provide mutual support.
To join a Yahoo! Group:
Send an e-mail request (to: transitionpaloalto at gmail dotcom) We can add you directly to the group. OR
If you already have a Yahoo account, you can sign up by sending an email message to
tpa_XXX-subscribe@yahoogroups.com (where tpa_XXX is the name of the group).
---
UPCOMING EVENTS
---
Richard Heinberg at Kepler's – Thurs Dec 8
"The End of Growth: Adapting to Our New Economic Reality"
Thursday, December 8, 7:00 p.m.
Economists insist that recovery is at hand, yet unemployment remains high, real estate values continue to sink, and governments stagger under record deficits. The End of Growth proposes a startling diagnosis: humanity has reached a fundamental turning point in its economic history. The expansionary trajectory of industrial civilization is colliding with non-negotiable natural limits. Richard Heinberg's latest landmark work goes to the heart of the ongoing financial crisis, explaining how and why it occurred, and what we must do to avert the worst potential outcomes.
The End of Growth describes what policy makers, communities, and families can do to build a new economy that operates within Earth's budget of energy and resources. We can thrive during the transition if we set goals that promote human and environmental well-being, rather than continuing to pursue the now-unattainable prize of ever-expanding GDP.
Richard Heinberg is the author of nine previous books including The Party's Over, Peak Everything, and Blackout. He is a Senior Fellow of Post Carbon Institute, a think tank helping chart humanity's transition from the brief, waning reign of fossil-fueled megatechnology to the dawning era of re-adaptation to nature's limits. Widely regarded as one of the world's foremost Peak Oil educators, Richard lectures widely and appears on radio, television, and in films.
Members get in FREE! General Admission requires purchase of event book OR a $10 gift card (admits 2).
http://www.keplers.com/event/richard-heinberg
---
Peak oil vs Climate debate with Heinberg in Berkeley- December 15
Peak Oil or Climate Emergency? We know we're in Big Trouble. But What Kind Exactly?
What: Dave Room, of Bay Localize, will moderate a debate between Richard Heinberg, Senior Fellow-in-Residence, Post Carbon Institute, peak oil theorist & author of the new book The End of Growth and Earth Island's Tom Athanasiou, director of Eco-Equity, global climate justice researcher, & author of Divided Planet: The Ecology of Rich and Poor. For tickets, http://eii.org/events/1215tix .
When: Thursday December 15, 2011 – 6:30 pm
Where: in the Richard & Rhoda Goldman Theater, The David Brower Center, 2150 Allston Way in Berkeley (½ Block from Downtown Berkeley BART)
More: http://eii.org/events/1215/
---
Ongoing Events
alternate Tuesdays – Conversation, Community and Calling
alternate Wednesdays – Book group 2 continuing discussion, Reskilling group
Thursdays – Resilience Circle
2nd Sunday – Garden share at Common Ground (cancelled in Nov and Dec)
4th Sunday – Garden share at Full Circle Farm (cancelled in Nov and Dec)
Visit the website at http://www.transitionpaloalto.org for details
You can access the Calendar via:
https://transitionpaloalto.org/events-2
Contact the Transition team transitionpaloalto@gmail.com
to get on or off the newsletter mailing list (the transitionpaloalto Yahoo Group) or to suggest events!
editor for this issue: Bart Anderson
normal editor: Rani
– 30 –