TRANSITION PALO ALTO
Newsletter
October 30, 2011
News
New book groups forming
New groups this month: Slow Money, Food, Chat, Gardening
New book – "Transition Companion" – discount copies available first week of November
Events
Cecile Andrews on Sharing – Wed Nov 2
Community Food Conference in Oakland – Thurs Nov 5-8
Richard Heinberg at Kepler's – Dec 8
---
---
NEWS
---
New book groups forming
Probably the best way to get started with Transition is through a book group reading the Transition Handbook.
Two groups are forming now. Book Group 7 will be meeting Thursdays in the middle of the day, probably at a coffee shop. For details, contact transitionpaloalto@gmail.com . Or join tpa_book7.
A group will be forming soon to read "The Transition Companion," the successor to the Handbook. (See description later in the newsletter). Book group 2 will probably be hosting the discssion. Cecile Andrews will be one of the co-facilitators. Contact transitionpaloalto@gmail.com. Or join tpa_book2.
---
New groups this month: Slow Money, Food, Chat, Gardening
Interested in connecting with one of the groups active in Transition Palo Alto? Just sign up for the Yahoo group to get news of meetings, events, and discussions.
New in October:
Chat (tpa_chat): To cope with all the ideas and events, we've set up a new Yahoo group for announcements, news items and discussion … whatever is on your mind.
Food (tpa_food): Interested in where your food comes from? Finding out how to get local, organic, **delicious** food? Getting connected with local food activists? Peter Ruddock, who has been a leading activist in Slow Food, is facilitating this group.
Gardening (tpa_garden): Learn about local resources and opportunities for gardening. Facilitator is long-time Master Gardener Romola Georgia. You can write her to join: rgeorgia AT gmail DOT com
Slow Money (tpa_slow_money): Started up after we heard two exciting speakers from Slow Money at the Oct 28 potluck. Will deal with business, investing, money management — all with a Slow Money, Transition focus.
Current groups:
transitionpaloalto for the newsletter and occasional Transition-related posts of general interest. Open.
tpa_book2 Transition Book Group 2. Meets every two weeks on a variety of subjects. Open.
tpa_book4 Transition Book Group 4. Now sponsoring the Resilience Circle (tpa_resilience)
tpa_book6 Transition Book Group 6. Now reading the Transition Handbook.
tpa_book7 Transition Book Group 7. Will begin reading the Transition Handbook in November. Will probably meet Thursday in the daytime.
tpa_chat for ideas, events, discussion. Open.
tpa_conversation Conversation and community discussion group. Deals with group process. Open.
tpa_food Food-related topics.Open
tpa_garden Gardening-related topics.Open.
tpa_resilience Resilience Circle. Started recently. Meets every week. Still open.
tpa_reskilling Reskllling classes (learning hands-on skills). Open
tpa_slow_money Money topics, with emphasis on the local economy. Investing, money-management, business.
To join a Yahoo! Group:
Send an e-mail request (to: transitionpaloalto at gmail dotcom) We can add you directly to the group. OR
If you already have a Yahoo account, you can sign up by sending an email message to
tpa_XXX-subscribe@yahoogroups.com (where tpa_XXX is the name of the group).
---
New book – "Transition Companion" – discount copies available first week in November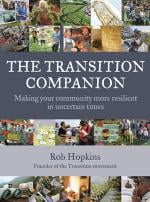 Our bulk order for "The Transition Companion" by Rob Hopkins is scheduled to be delivered to us in the first week of November.
The book is a sequel to "The Transition Handbook," and gives strategies and ideas It should be an important book.
If you are interested in reserving a copy, email Annette at annetteisaacson AT comcast DOT net.
List price is $29.95. We can offer it for $20.
A book group will probably form to read the book together. It's more fun to read it that way. Book group 2 is talking about hosting the discussion. We usually meet alternate Wednesdays from 6:30 to about 9 p.m.
Rob Hopkins just wrote announcement for the book. He gives link to a free online version.
More (see links under "Additional Information" at right of this page)
PDF of excerpts:
---
---
UPCOMING EVENTS
Cecile Andrews on Sharing – Wednesday November 2
The New Simplicity: Community, Sharing, and the Pursuit of Happiness
Wednesday, November 2
7:00 pm – 9:00 pm
Peninsula Conservation Center
3921 East Bayshore Road, Palo Alto
Cost: Free
In the past, simplicity was associated with deprivation and thrift. Its true meaning has always been about clarifying true happiness, and the biggest predictor of happiness is connection with people and the planet. We're building a new culture that links happiness to community and sharing and we need to come together to learn new skills. (For those interested, we will start an ongoing sharing group.)
The presenter is Cecile Andrews. She is the author of Slow is Beautiful, Less is More, and Circle of Simplicity. She has her doctorate in education from Stanford. For more information about this event and to register, please contact Michael Closson at michaelc@acterra.org.
---
Community Food Conference in Oakland – Nov 5 – 8
The topic of Food Justice has been in the air recently, so I suspect that a number of you will be interested in learning about the Community Food Conference 15 – happening in Oakland from November 5 to 8. It isn't cheap, but if you've attended conferences lately, you'll know that it's reasonable compared to some. You get quite a lot for your money. Check it out at: http://communityfoodconference.org/15/
If you don't want to attend the entire conference, you have the option of attending ONLY a field day on Saturday, November 5. These trips give people the opportunity to visit food programs and farms around the Bay Area, from West Marin to Salinas. They typically come not only with great information and opportunities to learn, but a lunch made from local, sustainable food. http://www.foodsovereigntytours.org/u-s-tours/cfsc2011/
One field trip in particular that I'd like to mention to you is near by. Collective Roots is hosting a field day, right here in East Palo Alto. Many of you know Collective Roots well, and probably don't need an all day tour of their excellent projects and sites. But others of you who have heard about them might want to check this out. You'll get to visit quite a number of places, including the amazing and beautiful EPACS garden, and get a lunch of local, sustainable food cooked by the graduates of their Cooking Matters program. http://www.foodsovereigntytours.org/u-s-tours/cfsc2011/east-palo-alto/
– Peter Ruddock
---
Richard Heinberg at Kepler's – Thurs Dec 8
"The End of Growth: Adapting to Our New Economic Reality"
Thursday, December 8, 7:00 p.m.
Economists insist that recovery is at hand, yet unemployment remains high, real estate values continue to sink, and governments stagger under record deficits. The End of Growth proposes a startling diagnosis: humanity has reached a fundamental turning point in its economic history. The expansionary trajectory of industrial civilization is colliding with non-negotiable natural limits. Richard Heinberg's latest landmark work goes to the heart of the ongoing financial crisis, explaining how and why it occurred, and what we must do to avert the worst potential outcomes.
The End of Growth describes what policy makers, communities, and families can do to build a new economy that operates within Earth's budget of energy and resources. We can thrive during the transition if we set goals that promote human and environmental well-being, rather than continuing to pursue the now-unattainable prize of ever-expanding GDP.
Richard Heinberg is the author of nine previous books including The Party's Over, Peak Everything, and Blackout. He is a Senior Fellow of Post Carbon Institute, a think tank helping chart humanity's transition from the brief, waning reign of fossil-fueled megatechnology to the dawning era of re-adaptation to nature's limits. Widely regarded as one of the world's foremost Peak Oil educators, Richard lectures widely and appears on radio, television, and in films.
Members get in FREE! General Admission requires purchase of event book OR a $10 gift card (admits 2).
http://www.keplers.com/event/richard-heinberg
---
Ongoing Events
alternate Tuesdays – Conversation, Community and Calling
alternate Wednesdays – Book group 2 continuing discussion, Reskilling group
Thursdays – Resilience Circle
2nd Sunday – Garden share at Common Ground
4th Sunday – Garden share at Full Circle Farm
Visit the website at http://www.transitionpaloalto.org for details
You can access the Calendar via:
https://transitionpaloalto.org/events-2
Contact the Transition team transitionpaloalto@gmail.com
to get on or off the newsletter mailing list (the transitionpaloalto Yahoo Group) or to suggest events!
editor for this issue: Bart Anderson
normal editor: Rani
– 30 –